The Imaginative Art of Richard Hescox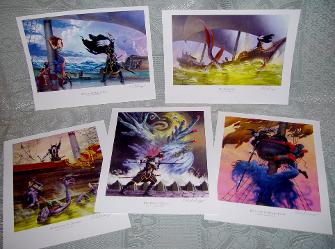 "Sailor on the Seas of Fate"
For Fans of "Elric of Melnibone" all of the color illustrations that I have created for the Centipede Press Limited Edition of "Sailor on the Seas of Fate" by Michael Moorcock are available as prints at the special price of $95.00 for the complete set of 5 images. All are printed on 11" by 14" heavy print paper and are each individually signed. I accept Checks and PayPal. Shipping in the U.S. is included in the price.

To order the set, please email me at triffid@charter.net.

These images are available in either edition.
(Copyright notice does not appear on prints)

All Images on this site are copyrighted by Richard Hescox